FREE shipping on orders over $100 in the continental U.S. | Appointments required for bra fittings
Login
Log in if you have an account
Dont have an account? Register
All the reasons not to get a bra fitting
28 Aug 2020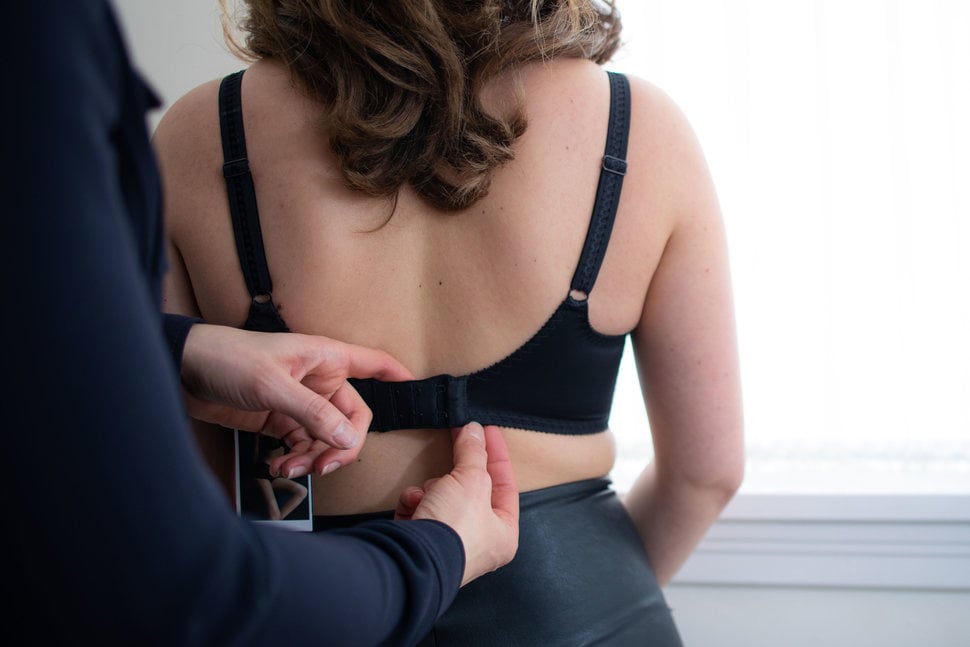 We hear all sorts of reasons why customers might feel skittish about getting a bra fitting, but there are so many reasons to get past that and let us help you feel great in your bras! Here are some of the most common ones we hear. 
I'm Embarrassed.
This is the most common reason we hear. You are not alone! It can seem intimidating to be in a fitting room with another person, try on clothes that fit right against your skin, and navigate confusing sizes and fits, styles and colors. Some people feel like they don't even know enough to come in and ask the right questions. But what's more: they feel like they should know how to do this already. NEWS FLASH: most Americans have not been taught how to buy our bras properly. Many of us didn't have a bra fitting when our breasts began to develop. We didn't have the experience of developing a relationship with a bra store or fitter, a person who could teach us how to properly put on a bra, adjust our tissue in the cup, know where the band is supposed to lie on our back and how tight the straps are supposed to be. There is no shame in learning now and no judgement when you come through our doors. Wearing an ill-fitting bra? You are welcome here. Wearing a ripped bra? You are welcome here. Gained 20lbs? You are welcome here. Confused about why things just don't feel good? You are welcome here, too! 
You might not have my size. 
We probably do. But if we don't, we will help you figure that out, too. We carry a very broad range of sizes in the store: from 32 to 46 in the band and A-I in the cup. We can fit nearly everyone who comes through our door. If we can't fit you? We will help you find the fit and resources for you. Our goal is to make every person who comes through our door feel comfortable and confident, whether you are getting a fitting, buying a gift, looking for PJs, or just browsing! 
I'm an average size. I don't need special bras. 
Regardless of size, we hear a lot of people tell us that their bras are uncomfortable. Do you walk in your house at night (or get in your car after work) and unhook your bra first thing? Your bra shouldn't be the first thing you want to take off your body. A different size, or a different fit, might just fix this.
I don't need fancy bras. 
Did you see what I said above about comfort and confidence? That is always going to be our first goal. The brands we carry make high quality, fit-focused bras. Then, they make them beautiful. You don't need to have fancy bras, but your should have (and you deserve!) properly fitting, high quality, long-lasting bras. You also have permission to have those properly fitting bras be beautiful. Because we think you deserve that, too. And maybe a matching panty. Because being fancy is also fun sometimes. 
I already know my size.
That's great! If you have a bra that is working beautifully for you, we are all for that! But remember that almost no one is just one size. Your size will change depending on the brand, cut, and material of the bra. You might actually need 2, 3, or 4 different sizes depending on what you are looking for and what variety you want in your wardrobe. There will also be things in our assortment that are simply not a good match for your unique body. Our fitters can help you figure out what will work, what won't, and where you might need to shift sizes. And then we can keep track of it, because you have enough in your brain without having to worry about bra sizes! 
Once I lose weight, I will come in for a good bra. 
Oh goodness, please do not do this. You deserve to feel great NOW. You deserve to feel great even if you are on a weight loss journey. You deserve to feel great even if you feel like you SHOULD lose weight, but aren't on that journey yet. Come see us, in all your beautiful, unique glory. Let us help support your current body and make you understand that the way you are right now is perfect for right now. Are you mid-weight loss? Maybe you just get a couple bras now to get you through this stage of where you are. Our fitters can help you figure out what you need to get as a bare minimum so you have what you need. Imagine you have a teenage daughter who has grown and her clothes don't fit. Would you just tell her to wear her too small clothes? Of course not! You would get your girl the clothes she needs that fit her body. Nurture yourself in the same way. 
I can't afford expensive bras. 
We believe in quality over quantity. Many customers come to us having a drawer (or two) of bras they hate. That is a lot of investment in things that don't work! Working one-on-one with a fitter is a great way to make sure your bra drawer has what you need, and isn't just a reminder of past mistakes. You don't have to buy your whole bra wardrobe at once. You can build over time (and make sure you retire your old bras over time, too!) Our bras range from $74 to $200+, but your fitter can make sure you are on the end of that spectrum where you need to be.